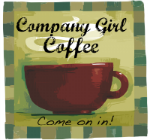 Good morning! Why don't you come on in and sit for a spell? I don't have any coffee on (though I could put some on, if you'd like) and visit for a bit. I'll try to keep this on the shorter side as I have a lot to do today.
It's been a semi-busy week and yesterday, I let things go. But I'll get back to that in a bit. This past weekend at Hubby's work, someone quit on the spot. Just up and quit. Hubby has taken over this guy's hours as well as his own. It'll be nice when the paycheck shows up for it. Unfortunately, that won't be til the first payday in February, but that's okay. We'll make it work.
The Neighbor Girl, My Kids and Family and Friendship
I have had the neighbor girl every day after school and it has been going REALLY well. She loves coming over to my house after school and I'm not quite sure why. On Tuesday, she was sick and her stepdad's mom came to stay with her for the day. (My phone was dead and by the time, I was able to call her mom back, she was busy and had her phone turned off so she didn't get my message in time that I could take her daughter.)
On Wednesday, the girl's mom didn't need me to take her before school because the mom didn't need to be at her appointment until 10am. However, on Tuesday, one of the ladies that teaches at church asked me to go over to the church on Wednesday and pick up a food order for someone, so that is where I spent a large portion of my Wednesday morning. Then, I stopped in at Hubby's work to grab a bite to eat (I have about $50 or so in gift cards to use there and I get a discount on top of it, so a really good deal) and to try to have lunch with him. But he was almost done and it wouldn't have made sense to have him take a break right at the end of his shift, so I ate without him.
When it was almost time to pick up kids, I called my neighbor to see if I needed to pick up her daughter as well. She said that her daughter was really upset that morning because she didn't get to come over to my house before school and that it would probably make her daughter pretty happy if I picked her up. So I did.
We had to stop at her house on the way home to drop off some stuff and I went in and talked to our neighbor for a little bit. Her daughter had a chance to come in at that point, but chose not to.
When we finally got home, I had the kids do their homework and gave them a snack (which is our regular routine for after school) then they played video games (we have puzzle-solving games on the wii so I figure at least it is something that they have to think about and work for, right?) then sent the girl home at dinnertime.
Yesterday, when I was walking up to the school to pick my kids up (I no longer needed to take the girl before and after school because her mom's need for that was temporary), the neighbor calls me and asks me to pick up the girl and I agreed to do it. It really isn't any extra work for me, I mean, I'm already there doing that exact thing. It's just using one more seat in my van and at my table. One more snack and one more kid to help with homework. No biggie.
We get back to our home and the kids come in and get started on their homework, then snack, then a game. I drove the girl home just before dinner (yes, she only lives a short distance from us but it was VERY VERY cold and I wasn't going to make her walk in it, I didn't want to walk to her house in it and I definitely didn't want to walk to her house AND back in it) and talked with her mom for about an hour. It was nice to have that time. I get the impression that her mom doesn't really have that many people to talk to in a grown-up conversation and to be able to REALLY talk, you know? It was really nice. I enjoyed it.
Time Management and A Bad Schedule
This week, I have also been battling a bad sleep schedule and really bad headaches most of the day that evolve into migraines shortly after dinner. This past week, I have been waking up around 4:30am and I have been getting tired (and going to sleep for the night) around 7:30pm. My kids' bedtime is 8:30pm. So Hubby has been left on his own for the evening and bedtime routine. Poor guy!
Yesterday morning, even though I had a ton of stuff to get done, I went back to bed for a couple of hours after Hubby went to work. I was hoping that by getting some additional sleep earlier in the day, it would afford me the ability to stay up until, oh, I don't know? 9:30pm, 10:00pm? Something more reasonable than 7:30pm, at least. So I did it, then I went to the school to do my normal Thursday afternoon volunteering session (stuffing Thursday folders in Cephas' fifth grade class and Koren's second grade class) then going home for a bit before going back to get him and the others. Needless to say, I didn't get a whole lot done around the house. In fact, I don't think I have done ANY housework since Wednesday. Yeah, that doesn't go so well. I mean, that's like 36 hours of no housework being done. Scary. Honestly, it doesn't look that bad, thanks to some changes we have made around here.
Volunteering and Work
After doing second grade's folders and before doing fifth grade's folders, I ran over to Hubby's work to see if he was done yet because we are sharing a vehicle right now while mine is in the shop being repaired. He wasn't done, but he was close. His head manager (the store's general manager) was sitting at a table across the room and he saw me and waved. I waved back and relaxed there for a bit, drinking a complimentary diet soda and eating on some complimentary french fries (told ya I get taken care of there!) and out of the blue, Hubby's GM stands up, points at me and says, "You're fired!" It's a running joke. He fires me nearly every day that we are both there. I don't work there, have never worked for him, yet he fires me all the time. :) Weird, I know. But he's a fun guy.
Hubby got off work and went with me to finish up fifth grade's folders and then I found out that he had been promoted to prep trainer. Yay! He makes an extra $3.00 an hour when he trains AND he gets a free meal (yes, I sometimes get free food and he still has to pay for his usually) so that is pretty cool. I keep telling him that he needs to take advantage of his free meal when he gets it but he usually passes on it. Oh well. Probably healthier that way, I suppose.
Oh and my plan of napping earlier in the day worked. I was able to stay awake until 10:30pm last night before crashing. And I slept through until my alarm woke me up at 6:00am. Do you know how long it has been since I have slept through until my alarm woke me up? (Okay, last Wednesday, but before that it had been quite awhile as well) It is wonderful to sleep until your alarm goes off. I felt so excited about it! I woke Hubby up to tell him how happy I was to wake up that early. He wasn't nearly as thrilled as I was though. Hmmm, wonder why? ;)
Plans
So that was my week in a nutshell. Today, I have a lot on my agenda. I need to tidy up the house from the last 36 hours and then I have some ideas that I want to put into action in the kids' bedrooms. Oralee received a new bed last week from a co-worker of mine and then this week, she received a new vanity from some friends of ours. Her room is getting considerably more girly by the minute, I tell you! And I LOVE it! I never thought I would drink in all this girly froo-froo stuff but it is so cool and wonderful! I have some changes to make in her room (remove her dresser and set up a different system for clothing storage) and then in the boys' room (make a trundle drawer for Cephas' mattress to go on and get rid of one of the bed frames, move Oralee's dresser into the boys' room for the boys to have more clothing storage for them and rearrange their room just a bit) plus, I have a clean home challenge and an organized home challenge that I am working on as well. So I have those things to do. One thing is for sure, it is never boring in this house! :)
I hope you are all having a wonderful week as well! And many wishes for you and your family to have a wonderful weekend and next week too! Thanks for dropping by for my (long-winded) update for this week!