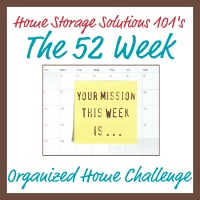 Kids' Bedroom Organizing Challenge
Wow. Can my kids (and I) ever use this challenge right now! I also like the idea of doing this challenge at this point, where it is far enough before Christmas that we can weed out space for the incoming new items, yet it won't leave them feeling deprived of their purged belongings because Christmas will be coming up soon enough.
In the older boys' bedroom, they have two twin beds. We hope to change this out to twin beds or even really to this one bed I found that has a set of twin beds with an attached loft bed, creating an L-shape. I love that bed design! Three beds taking up the floor space of one! Perfect for a small room!
Anyhow, for right now, only the two older boys are sharing a room and that is the one that I am going to share with you. Their room is done up in a sort of sports theme. I wish it was more complete but it's a work in progress.
We start out with their beds. Two twin beds. We have had these beds in nearly every single configuration that is possible in this room. The way it is right now is the configuration that they have chosen. They also have their dresser and Koren's keyboard (for his music practice) and Cephas' violin and music stand (for his music practice). They also have some toys in their room as well as some storage drawers that they have inherited from my mother-in-law's garage sale pile. Well, actually, I inherited them, but then didn't need them afterall and so I offered them to the boys.
Cephas also uses an older wooden tv tray as a night stand next to his bed. I actually like this idea because it takes up less room than his old one did and it matches the wood tone of their beds. The dresser is another story as it does not match but that's something that I have just come to deal with. We bought that dresser back in the day when Cephas was an only child. And a teeny tiny child at that. Like two years old. It's been around awhile now. It definitely shows too!
But we're not here to talk about his dresser. We're here to make sure that their room is organized and functional for them. The first step to do that is to determine what this space is used for.
The first, primary use of their bedroom is for sleeping. For sleeping, they need beds. Check.
The second use of this space is for clothing storage. They have a dresser. Check.
The third use of this space is for music practice. They have their music area set up. Check.
The fourth use of this space is for playing with toys. This is one of the areas that needs some fine-tuning. They have storage and they have toys, but I think it could use some tweaking to be honest. Koren tends to be a very orderly child. He likes to have his toys separated into different bins or compartments or whatever based on what the item is. So all of his Hot Wheels are together, all of his dinosaurs are together, all of his sea animals are together, all of his stuffed animals are together, so on and so forth. Which I love! That is a child who takes after my CDO (a family joke - CDO is like OCD but in alphabetical order the way it should be).
Cephas also likes storage bins and having things organized. However, there's something missing somewhere between having the containers and keeping things organized. He also tends to be a bit on the hoarder side of things. Or so it seems. The fact that he has an old end table that we tried to get rid of and an old computer that barely functions in his closet is an indication of that.
So, that is the primary thing that I am going to be working on this week with them. Organizing their space for their toy/playing/entertainment functions. Check back at the beginning of next week to see how it turns out.