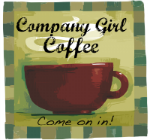 Today is the day for the last Company Coffee for the year and I am so excited about Rachel's Small Things coming up this year. And also for the big things that we will be doing as well! Yay! I haven't really tried to create as much Sanctuary here at our new place as I did the at old one. And we moved in July. Yeah. I think that pretty much sums it all up.
As it is right now, my house is in major need of a thorough deep clean, I have window treatments that need to go up. I finally did find some that are in our budget and much like the ones that were already here when we moved in, so that is exciting for me. Now I just have to wait til Hubby gets home after work today to show him.
Although the Sanctuary aspect of our home is missing lately, the kids have definitely enjoyed our little projects and work times together this semester break. We have made and decorated Rice Krispie treats (as opposed to cookies) and we have plans to make and decorate sugar cookies and gingerbread houses. These are projects that we work on while Hubby is at work because they stress him out and the kids and I would prefer to not stress him out.
We had a wonderful Christmas and I hope you all did as well. We have had three Christmas celebrations so far. One for Hubby's mom's side of the family, one for Hubby's dad's side of the family, and then our own little family. Tomorrow, we have one more with my mom and brother. I don't know yet if we are going to my mom's house or if they are coming over here but either way, it should be a great time as well.
We have a very full month. Four family Christmas celebrations, two violin performances, one piano performance, Wolf Scouts, Webelo Scouts, Daisy Scouts, working in the classrooms, field trips, illnesses, company in from out of town, you name it. And I love it!
So without further ado, I will turn you over to the other ladies at Company Coffee! Go check them all out and maybe link up yourself! It's a great chance to get to know some great ladies! Have a very Happy New Year!